BriteBirch Collective is excited to announce the launch of AIX Exchange: The Future of AI and Human Experience as part of LG Electronics' CES 2021 programming.
This multifaceted digital report was sponsored by LG Electronics and Element AI and includes in-depth interviews with leading experts in AI, consumer advocacy, design and business and builds on the Levels of Artificial Intelligence Experience (AIX) Framework which we helped create and launch last year.
The AIX Exchange explores AIX design across six core themes such as Public Perception, Ethics, Transparency, User Experience, Context and Relationships, each with multiple sub themes that interlink, such as the importance of user interface for building transparency and how a clear purpose for AI products can support adoption by end-users. To ensure it appeals to all stakeholders, there is also an Understanding AI section that helps public audiences follow along with some of the technical aspects of the discussion.
While the topic of AI isn't new, we found that most conversations revolve around either major negative ethical applications and doomsday scenarios or overhyped products and services that often exaggerate the technology. But as AI becomes more commonplace in our everyday lives, it seems that we, as end-users, aren't being considered in the technology's design, while it is our data that fuels its advancement. And this advancement is happening fast, which is why we brought together 12 global experts from a variety of backgrounds to begin asking questions and ensuring that AIX was considered as early as possible in the development of consumer-focused products and services. https://www.youtube.com/watch?v=8RtbI1yeMYc&t Interviews were conducted and captured over Zoom between September and November, 2020 and included talks with some serious gurus in their domains:
In addition to the interviews we also worked with BriteBirch Collective partner Phrasia, a Natural Language Processing (NLP) AI technology, which analyzed over 60K samples of unstructured text data to better understand the conversations different groups are having around AI. Check out their interactive map and analysis here.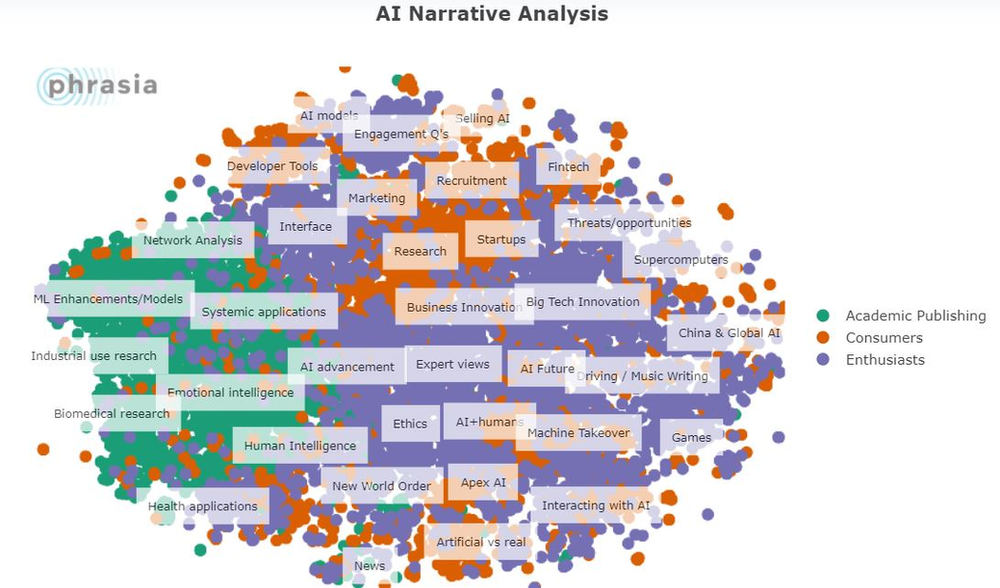 This project required a curated team of writers, technology editors, content specialists, video editors, AI experts and a client architect. Our team was spread out across South Korea, Canada and Singapore to allow us to work more efficiently and as Covid-19 restrictions were enacted at different times across the globe.
As a new type of global network agency without offices or employees, we are deeply thankful for the opportunity to work with world-leading brands and experts such as LG Electronics and Element AI on a project such as this. Given the short timelines, global pandemic challenges, multiple stakeholders from around the world and a complex and constantly evolving topic, we feel like this project proves our model's flexibility and ability to tap specific expertise on demand.
Please visit the AIX Exchange at www.aixexchange.com and check out the YouTube channel.
Let us know your feedback and reach out if you would like to discuss how we can unlock the power of perspective for your organization.