Cooperative models aren't new, in fact, they've been around since 1761 and today, the largest 300 cooperatives report a total turnover of 2 billion USD. In a post-Covid world, they may even provide the blueprint for a more sustainable, equitable global economy and society.
July 4 is International Day of Cooperatives and so, as a new kind of global agency modelled on ,Business and Employment Cooperatives, we at the ,BriteBirch Collective want to share 5 reasons why Cooperatives should become more popular as sustainable alternatives to traditional business structures.
According to the ,International Cooperatives Alliance, the earliest cooperative started in Scotland when, in 1761, local weavers formed the Fenwick Weavers' Society.
Since then, co-operative business models have spanned countless industries and various iterations but their basic principles have stayed consistent. Ultimately, co-ops, are organizations owned and controlled by the people who use the products or services of that business. They differ from corporations because they operate more for the benefit of members, rather than to earn profits for investors. Cooperatives combine the best of small business ownership and a corporation. They often reflect community interests, offering wealth creation, while at the same time providing governance, sustainability, resiliency and limited liability.
So why do we think cooperatives are the future?
1. Cooperatives are profitable... for everyone:
Together cooperatives around the world generate around US$3 trillion in annual revenue. And according to Senator Bernie Sanders, employee ownership in the US boosts company productivity by 4 percent, shareholder returns by 2 percent and profits by 14 percent. ,So as more baby boomers look to sell their companies, ,cooperatives offer a great alternative whereby companies are bought by the employees themselves, ensuring consistency, greater quality and a deeper responsibility for the business. Cooperatives are designed to share the wealth amongst members who have a stake in the success of the business. They are transparent by design and serve the best interests of their community rather than shareholders. More cooperatives will mean greater wealth distribution. More than 12% of humanity is already part of the 3 million cooperatives in the world, which employ 280 million people (10% of the world's employed population, ,according to the UN).
2. Cooperatives are democratic and diverse:
Cooperatives (typically) are structured to provide open, equitable and diverse membership. One of the ,key principles of the ICA is that cooperatives should be voluntary organizations, open to anyone able to use their services and willing to accept the responsibilities of membership, without gender, social, racial, political or religious discrimination. Their very nature invites openness, understanding and trust. In a time of ,racial injustice, ethnic, religious, sexual and gender discrimination, not only does the co-op model represent a way forward, much like the ,,BriteBirch Collective, its diversity is what also makes it resilient to volatile market forces while providing valuable perspectives to keep it innovative.
"The COVID-19 pandemic and climate emergency have both revealed the fragility of our societies and our planet. These dual crises are disproportionately affecting the world's most vulnerable countries and people, and deepening many social and economic rifts. They also make clear the need to strengthen global cooperation and solidarity." - UN Secretary-General António Guterres
3. It's in the name: cooperatives know how to partner:
By their nature, co-ops thrive on the open, honest collaboration between members. ,,This spirit of partnership is essential for businesses looking to thrive in today's fast-changing world. But many larger, traditional corporations are notoriously bad at partnering. Greed breeds mistrust, which enables barriers to be put in place and slow down a business' ability to partner. But when the world shifts suddenly, like during a global pandemic, the fastest way for companies to take on new skills and understanding, new ideas and innovations, is to collaborate.
4. Cooperatives don't just take, they almost always give back:
Cooperatives are structured to support members and so very often provide education and training for internal and external stakeholders so that everyone in the ecosystem thrives and can contribute effectively to the development of their co-operatives. What's more, is that co-ops very often have a social impact imperative built into their ethos. These are very often focused on the immediate community, but with the advent of modern technologies, more and more these groups are expanding into global communities and addressing global issues, such as the environment, ,education access, ,women's worker rights and ,many more.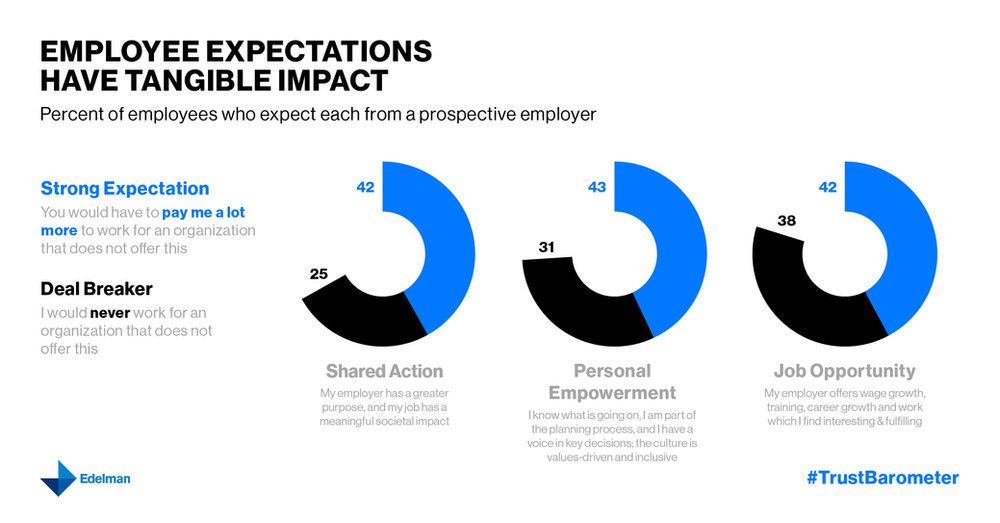 5. ,Cooperatives ensure employees are engaged... because they are also owners:
In the last few years, employees have begun advocating for their companies to do more good, to support diversity, to ensure safe and equitable working environments. They are speaking up and holding their employers accountable like never before. ,Edelman's 2019 Trust Barometer ,,looked at many of the expectations employees have for their leaders and found that three in four employees (76 percent) say that CEOs should take the lead on change rather than waiting for government to impose it. For cooperatives, concepts like equality, workplace safety and community are already baked in.
So this International Day of the Cooperative, be sure to check out many of the great examples of cooperatives around the world. When starting your next company, consider cooperatives as a more sustainable and resilient business model. If more of us do, the economy, society and the world may just look a little more equitable.
Be sure to share this article with the hastag, #coopsday.