A case study from a BriteBirch member
The BriteBirch Collective is known for its diverse skillsets ranging from creativity to business consulting to communications strategy. Recently, as
,shared in a blog post
, we've also substantially increased our data and analytics capabilities through BriteBirch Insights, giving us a unique offering that marries creativity with research. It's in this context that we want to share a recent piece of work by one of our BriteBirch Collective members. Vasanth Seshadri runs an advertising agency in Singapore called
The Sunny Side
. That's his day job. By night, he's an author, and he recently published a short novel with a sustainability message called
The People from Beyond the Mountains
. As he's primarily a creative, the fictional side of things came a bit more naturally to him. But if a novel with a sustainability message is not based in science, it runs the risk of becoming amateurish. This is why he needed to do something that creative people are not particularly good at: research. The good thing is, there are plenty of climate change podcasts from credible sources, such as Climate Rising by the Harvard Business Review, The Climate Question by BBC, and Green Pulse by Singapore's Straits Times. Bill Gates' recent book How to Avoid a Climate Disaster and Dr Klaus Schwab's recent book Stakeholder Capitalism were two other dependable sources of information. This provided the author with wide and deep knowledge of various aspects of sustainability, from energy to water to agriculture to industrialization to urbanization. Which was the prerequisite to writing any serious book (even if it's a novel) about sustainability, climate change and other real-world existential threats. What are the lessons to those of us in creative fields? It's two-fold. Firstly, creativity is just hot air if not founded on a bedrock of facts, be they scientific facts or research into the consumer. At the risk of mixing metaphors, no building can stand without a sturdy foundation. This validates what BriteBirch is doing by expanding its data capabilities through
BriteBirch Insights
so that reliable, dependable data can be converted to insights which provides valuable perspectives that inform smarter business decisions, better stories and creative campaigns.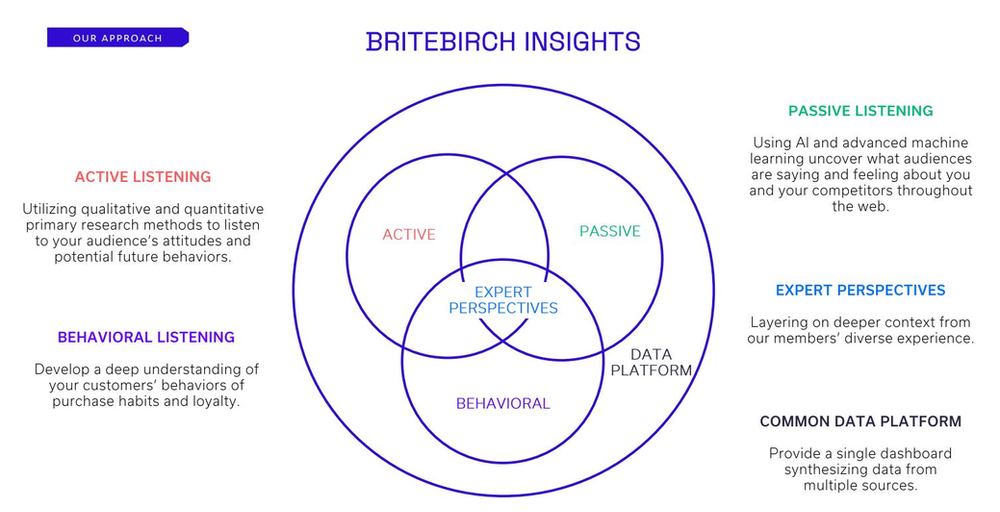 The second lesson is the inverse: a foundation alone doesn't make a building. Information expressed only in a factual way cannot cut through the sheer amount of information we each process daily. Imagination and storytelling are key here. That's why The People from Beyond the Mountains is a fictional piece. The sustainability facts are science-based, as that's the one part of the piece that simply should not be fiction. But everything else was woven into an intriguing adventure novel. Data and creativity are like a tango. They are more than the sum of their parts when brought together. BriteBirch has a unique opportunity to do precisely that for their clients.
The People from Beyond the Mountains is available on Amazon in either
E-book
or
Paperback
.
About BriteBirch Insights
BriteBirch Collective
is a new kind of global integrated marketing consultancy, powered by perspective. Our unique approach to insights is multifaceted, bringing together Passive, Active and Behavioral Listening in order to build a more complete picture for our clients. From traditional qual and quant studies to AI-powered sentiment and conversational analytics, we offer a plug and play solution and a customizable insights platform that provide the perspectives needed to make better brand and business decisions. What's more, is that our 150 global Creative Consultants provide deep industry and skills knowledge, adding context, insight and storytelling to your data. Download our
BriteBirch Insights Overview
or
contact us
for a free consultation.